Enchanted Forest puppies of Treowecorgi
31 October 2023
6 puppies (2 boys, 4 girls )
2 tricolor boys (all nbt)
2 tricolor girs (all nbt)
2 red girls (all nbt)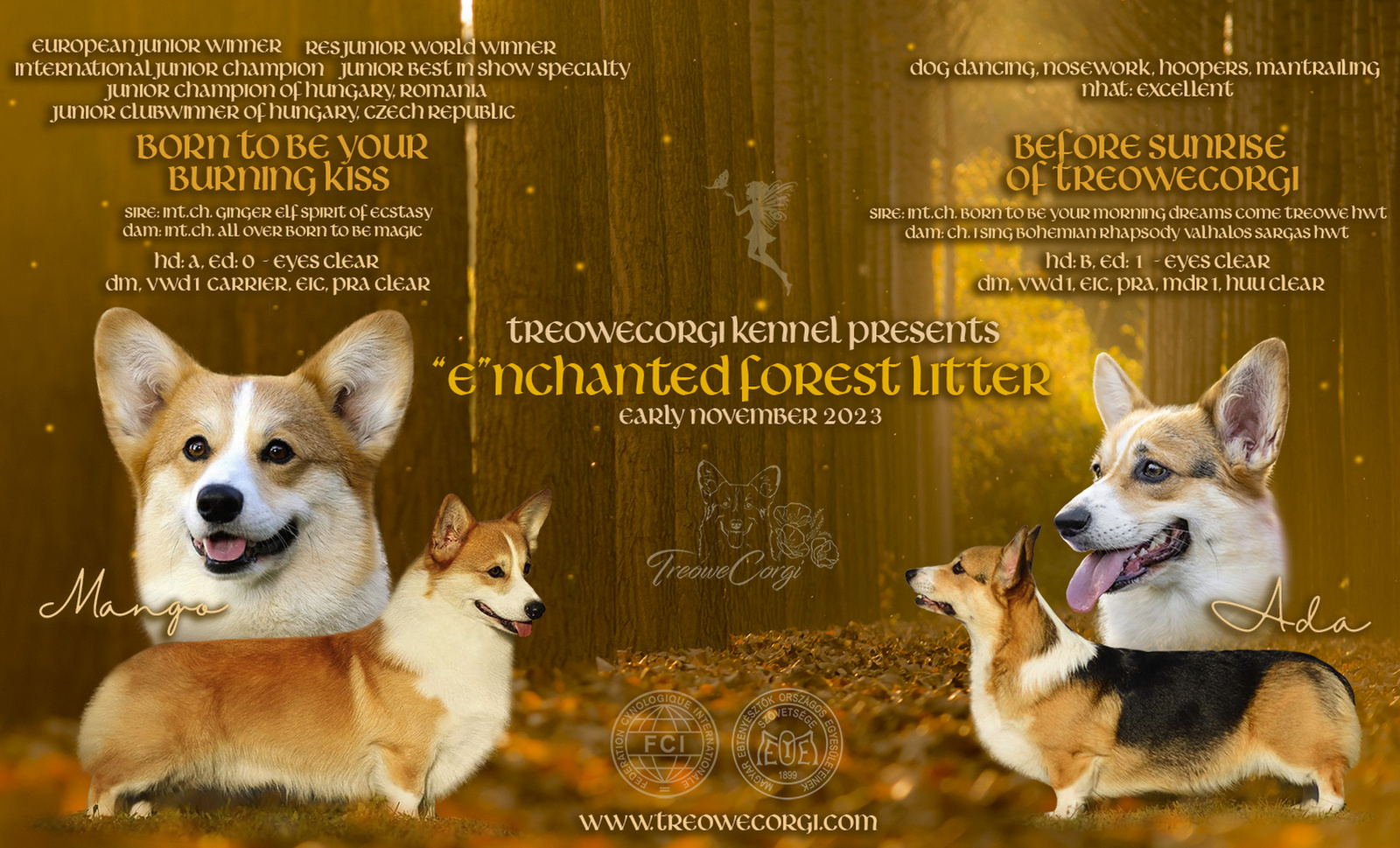 Mango aka

Born to Be Your Burning Kiss

who is still a young fellow and already made history having some outstanding show results.
He is Junior European Winner, res Junior World Winner, Junior Clubwinner in Hungary and Czech Republik where he also became Junior Best in Show Specialty, he is Junior Champion of Romania and Hungary and fulfilled the conditions for the Junior International Champion title!
He comes from a family of HUGE names! His littersisters are all beautiful dogs that have collected outstanding results, several Best in Shows, Champions, Best of Breeds, Best in Groups on the highest level under world renowned breed specialists!

Mangos sire Ginger Elf Spirit of Ecstasy "Solo" is one of our favorite boys.
Mangos dam Lovejoy aka All Over Born to be Magic is one of the most prominent broodbitches of Born to Be kennel she gave some extraordinary offspring and is also the maternal grandmother of our Louis!
Ada aka

Before Sunrise of Treowecorgi

is from second litter of Pipacs, and first litter of Louis. She is a multitalented young lady with some wonderful qualities! She is very active in several sports, activities such as competing in Dog Dancing,passed her first exam in Nose Work, training Hoopers and Mantrailing and has a great herding instinct, passed the NHAT exam with Excellent! She is yet to start being shown more often, as she needed to mature.
Her sire is our Louis aka Born to Be Your Morning Dreams Come Treowe who is also a super successful show and working dog. Among his successes he achieved to become European Junior Winner, European Junior Clubwinner, Hungarian, Czech Junior Clubwinner, Junior Best in Shows Specialty, Best in Show Specialty, Junior Champion of Serbia, Hungary, Champion of Serbia, Hungary and Slovenia and is an International Champion! Louis is also working sheep, passed his NHAT and HWT exams and started competing in IHT-1 TS!
Ada's mother is our once in a lifetime girl, I Sing Bohemian Rhapsody Valhalos Sargas aka Pipacs who is a Junior and adult Champion of Serbia, class winner on Multiple ClubShows in Hungary and was Best Bitch and Clubwinner on Hungarian Specialty with BOS. She was also the very first pembroke corgi to pass the HWT exam in Hungary! She is successfully competing in herding, currently IHT-2 TS.
Of course beside all these wonderful results both parents are fully health tested as this is also a very important part of our breeding program!
We hope for some beautiful babies with great characters and working abilities!
Fluttering Firefly
girl1- tricolor- BHT?- NBT
Penny Bun
girl2- red and white- NBT
Majestic Oak
boy1- tricolor- BHT ?- NBT
Fairy Saddle
girl3- tricolor- BHT carrier RHT?- NBT
Chanterelle
girl4- red and white- NBT
Moonglow Moss
boy2- tricolor- BHT carrier RHT ?-  NBT
PEDIGREE